EMF Radiation Protection – Hologram 8 pack Gold+Silver
$83.50
EMF Shield Holograms Harmonize electromagnetic radiation by projecting a sacred geometric coherent energetic field overriding the scattered man-made fields from wireless communications. Grab one for all your devices with our 8 hologram mega pack.
Note: We allow only 1 x 8-pack per order.
Description
EMF Shield Hologram – 8 pack
Harmonize radiation from Phones, Tablets, Laptops, Game consoles and any  wireless / electrical device
EMF Coherence Factor: 9.7/10
The EMF Shield Hologram has an amazing EMF harmonizing capacity by projecting its coherent energetic field out to a 19m* radius.
This pack contains 4 Silver holograms and 4 Gold holograms. Same design as all our holograms however in this pack you will receive 8 holograms – 4 with a silver foil backing and 4 with a gold foil backing.
Are you aware of the dangers your mobile / cell phone is exposing your body too? The non-ionizing radiation emitted from your portable wireless device not only connects your device to a tower for communication purposes, this invisible radiation is also communicating with your DNA and every cell in your body, it scrambles cellular communication within the body and can even break both strands of DNA, You need protection and you can get it with the EMF Shield Hologram!
The EMF Shield Hologram is a micro thin Holographic Film encoded with very specific creation codes of Organic Biology. These codes continuously project an informational field of sacred geometry 19m into your local environment harmonizing any scattered EM energy fields.
You are protected with the EMF Shield Radiation Protection Hologram.
Easily sticks onto any mobile wireless device.  *as indicated by muscle testing/kinesiology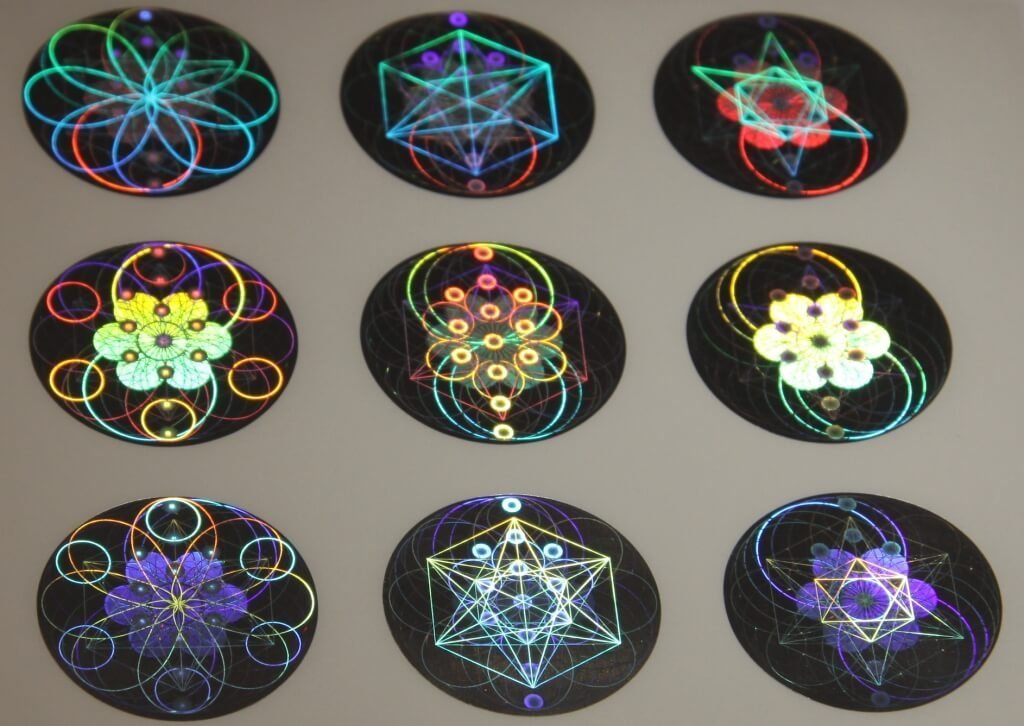 The EMF Shield Hologram has a silver backing (the photos look like it is black) (These pics are all of the same hologram).
**Condition of Sale: 1 x 8-pack only per order. By purchasing these holograms you agree to; not on-sell, modify or use in a new product for sale. These holograms are to be used as stand alone items as indicated in the listing above and not re-purposed or re-sold, to do so will be a breach of copyright and IP.
**Refer to product disclaimer in terms
Additional information
| | |
| --- | --- |
| Weight | 0.010 kg |
| Dimensions | 8 × 0.2 × 10 cm |